I'm starting to become just as obsessed with Freezer Meals as I am with Crock Pot Meals. Since I am just cooking for 2 right now it's nice to be able to make meals where we can use eat some now and save some for later.
Breakfast Casserole is something we always have on Christmas morning. You can make it the night before and just put it in the oven while everyone is opening presents!
Here's the Recipe: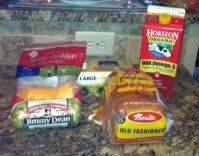 6 pieces of bread- made into bite size pieces
6 eggs
1 package of sausage, browned
1 cup of cheese (I like cheddar)
1 cup of milk
This time when I made it I had hamburger buns that I knew were going to go to waste so I substituted 4 buns (8 total pieces) for the bread, I added 1 extra egg, and what's better than 1 cup of cheese? 2 cups of cheese!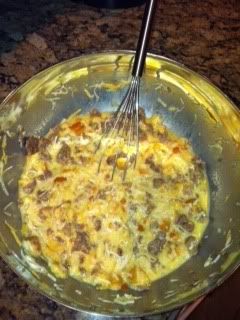 Brown the sausage, tear the bread into bite size pieces, add the eggs, cheese, and milk. Mix together.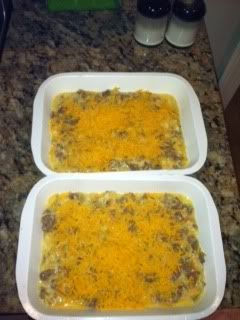 I made 2 small casseroles out of this. Make sure you spray the bottom of the pans with Pam. I also added a little more cheese on top!
Set oven to 350 and cook for about 20-30 minutes, until egg is set.
*The original recipe says to make the night before and let it sit in the fridge over night. Not sure if that was for convenience the next morning or for another reason. I made this the morning of and it came out just the same.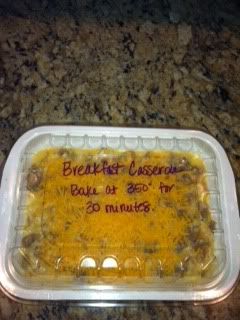 I put the 2nd casserole in the freezer to enjoy on a weekend that I dont feel like making breakfast!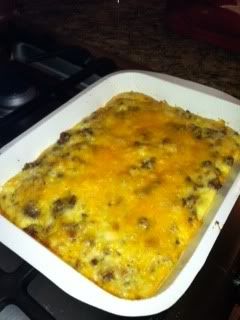 This is a great recipe to make if you have company and need something easy to make for breakfast!