Happy Wednesday! I hate that I haven't been able to blog much lately but this is a very busy time for me at work. With the approaching holidays, this brings some of our biggest events. I am pretty excited for my Boo Bash event this weekend! Captain Jack Sparrow (this has to be the best impersonator I've ever seen! This is not a pic of Johnny Depp!) will be attending and helping the kids do a Treasure Hunt. I got a bunch of glow in the dark items, spider rings, and lots of little Halloween toys to hide around our neighborhood playground.
I'm also having a Haunted House built inside our Clubhouse Boardroom. I cant wait to see how it turns out! I'll be sure to post pictures of the event!
To me, Halloween just gets me one step closer to the holidays I care most about, Thanksgiving and Christmas! With my wedding being right after Thanksgiving last year, I didn't get to decorate as much as I wanted for Christmas. So Hubby, be ready, this year I will be out of control making up for last year! Don't judge me, but I deem it acceptable in my house to break out the Christmas decorations as soon as Halloween is over. That's right, November 1 is my date I can break out INSIDE decorations only. It's so much work to put everything out and I want to enjoy it for more than a few weeks!
Thanksgiving Ideas...
This year we are hosting Thanksgiving for my family at our house. My Wedding Cake Designer,
Cake Envy
, is making us our cake topper to enjoy for our first anniversary, so I thought I'd also order some desserts for Thanksgiving. I'm thinking of ordering this cupcake centerpiece in Pumpkin with Cream Cheese Icing!
I found this Corn Casserole dish on Pinterest. I want to try and test it out to see if it's Thanksgiving worthy. It sure looks like it!
Recipe
I'm also going to make Cornbread Dressing and I think I'll go ahead and make it in the next couple of weeks and freeze it!
Recipe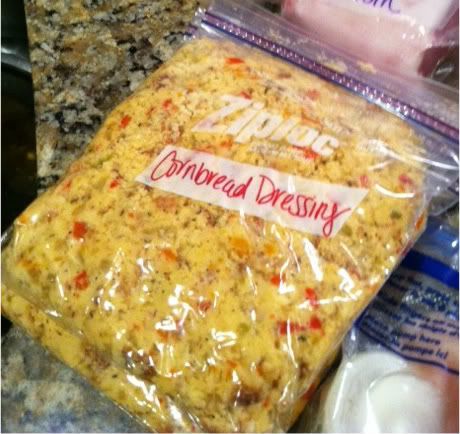 And since I'll already be decorated for Christmas, no need to look at any Thanksgiving decorations. Lets just jump right in to the good stuff!
And I'll leave you with a song that is sure to get you in the Christmas Spirit!