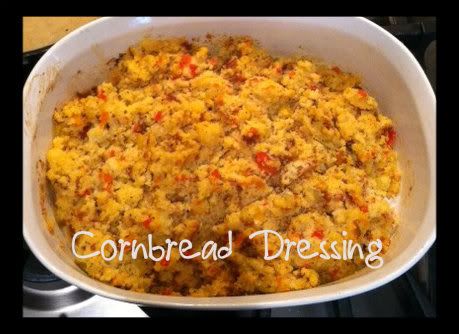 If you're from the south you know there's nothing better than Cornbread Dressing! This is one of the things I look forward to most when it comes to Thanksgiving. We usually only have this delicious dish for Thanksgiving and Christmas because it's not the easiest dish to make and usually a 2 day process. Last month I decided to make it on my own for the first time and I came up with my own recipe, making it a little easier. It's still somewhat time consuming so I decided to make a large batch to freezer leftovers. We;ve already gone through our frozen leftovers and they were just as delicious! So I decided to make some more yesterday.
The great thing about Cornbread Dressing is you don't have to stick with a recipe. You can use what you like and how much of what you like.
Here's what I did:
STEP 1- Cornbread:
Preheat oven to 425
Coat the bottom and sides of your Skillet with Vegetable Oil and place in oven while pre-heating.
In Large Bowl Mix:
3 Cups Cornmeal (there is a recipe on the back that you can follow as well)
1 1/2 Cups Milk or Buttermilk
4 Tablespoons Sour Cream
5 Eggs
Whisk together. Add to Skillet (I have a small skillet so it took 2 batches).
Cook for about 30 minutes or until golden brown.
After it cools crumble in a large bowl.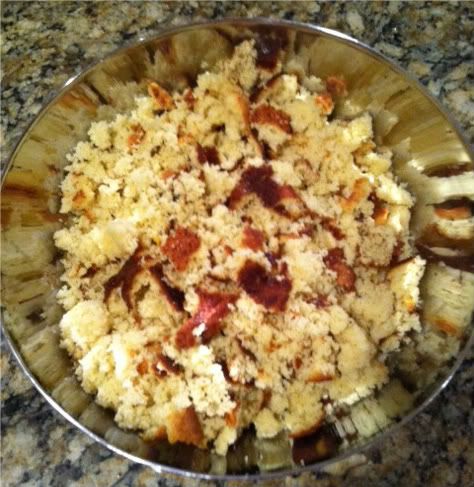 STEP 2- Veggies:
I used 2 pieces of Celery, 2 Onions, 1 1/2 Red Pepper, 1/2 Yellow Pepper, and 1/2 Orange Pepper.
Sautee in large pan with 2 Tablespoons Butter. Salt and Pepper to taste. Let cook for about 10 minutes on low.
STEP 3- Combine
Add the veggies to the bowl. Mix in 3 Cans of Cream of Chicken and 2 1/2 Cups of Chicken Broth. I added some Salt, Pepper, Red Pepper, and Sage. Mix all together. Don't be afraid to use your hands!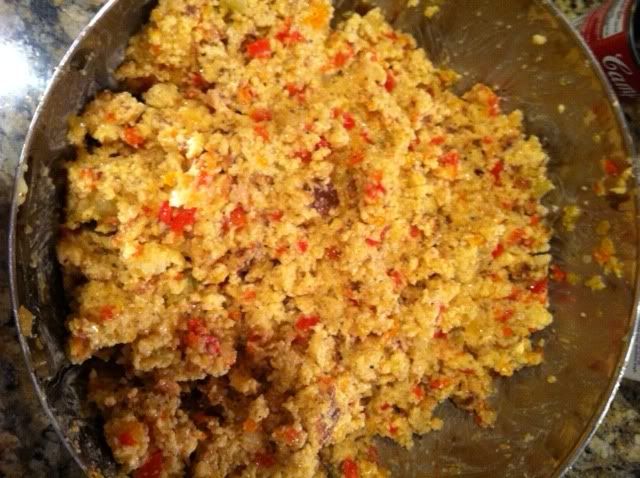 I got 4 servings out of this. I covered one dish and placed in the fridge to make the next day and made 3 bags to freeze.
Place in the oven at 350 and cook for about 30 minutes or until golden brown.