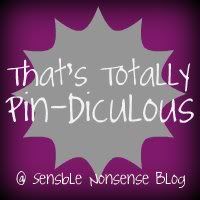 I love Thursdays! It's the day before Friday! Just one more day, I can do it!
Plus I get to share some of the most ridiculous pins I've found. Please link up with my friend Lindsey at Sensible Nonsense!
Baby Jacuzzi... only $3200. Sorry baby, don't love you that much! haha
Uhhh... She will never have a boyfriend
Someone actually made this cake! I think I'll be seeing it on an upcoming episode of one of my favorite shows...Snapped!