This is one of my all time favorite meals. As a child, I chose this for my birthday meal every year! If you don't like Ricotta in your Lasagna this is a great recipe to try!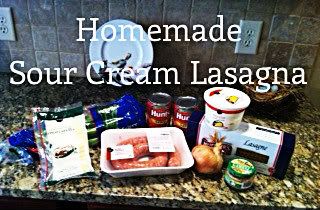 Ingredients:
1 package Mild Italian Sausage
1/2 cup chopped Celery
1/2 cup chopped Onion
1 Garlic Clove (I use the kind in the jar)
2 15 oz. cans of Hunts Tomato Sauce
2 tsp. Sugar
2 tsp. Salt
1/2 tsp. Sage
Lasagna Noodles
8 oz. Sour Cream
Mozzarella Cheese
Brown Sausage (make sure you remove the skin first) and Drain.
Add Celery, Onion, and Garlic to pan and saute for 5 minutes, then add Sausage back to pan.
Add Sauce and Seasonings.
Cook on Low for about 30 minutes, stirring occasionally.
Cook Lasagna Noodles (9 are needed for the recipe but you will want to cook a few extras for "Lasagna Fingers").
Pre-heat oven to 350.
Make sure to grease your Lasagna Pan.
Add a layer of Noodles, Sauce, and Sour Cream. Spread Sour Cream into Sauce (don't be stingy with the Sour Cream!) Repeat 3 times.
Cook in oven for about 25 minutes.
Add Cheese and cook until cheese melts.
While you are waiting for your Lasagna to cook, take your extra Noodles and dip a bite size piece into Sour Cream, then the Sauce. This is my favorite part of the meal! Make sure you aren't wearing anything nice because this WILL happen to your shirt. I'm not even going to show you what my face looks like afterwards.
I made a double batch to freeze the leftover sauce. I've also put together a whole Lasagna and put it into the freezer but I didn't have the space this time. It turned out just as delicious as a fresh made Lasagna.