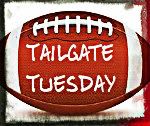 We are only 2 days away from the kick off of College Football! I can't wait to see Vandy whoop South Carolina! Ok, that probably won't happen, but I'll be cheering for them anyways! Then on Saturday, I'll be cheering on Alabama AT the Chickfila Kickoff Game with Auburn vs. Clemson. May as well cheer on Clemson in the suite during commercial breaks!
We all know that with SEC football, comes game day fashion! Should I go casual or dressy? One things for sure, I'll be wearing my most comfortable cowboy boots!
Who will you be cheering on this weekend?