For those of you who are as excited about this coming football season as I am, OR you just love a good party dip, LINK UP every Tuesday with your favorite Tailgating Recipes!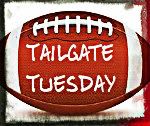 CREAM CHEESE SAUSAGE BALLS
I have been making my own version of Sausage Balls for years, but when I found a recipe that involved Cream Cheese, I had to try them! I ended up combining my recipe with the recipe I found on Pinterest.
My Recipe includes just 3 ingredients!
That's it! Just brown the Sausage and mix with 1 can Cheddar Cheese soup and 1 package of Bisquick Complete.
Last time I made them, I also mixed in 1 cup of shredded Cheddar Cheese and 1 package of Cream Cheese. I thought my original recipe was delicious but now they are even better!
I use a small ice cream scoop to make them into small balls and cook on 350 for about 30 minutes (or until golden brown).
These are the perfect tailgating snack!