Wedding Guestbooks are a thing of the past. How often are you going to pull out a book with just a bunch of names and look at it. You should find something that you can look at daily and be reminded of your special day! Many are now doing this with an engagement photo book that your guests sign. I knew I wanted a bird theme in my kitchen and decided to do something that would go with this theme.
I ordered this personalized picture off of Etsy. If you are good with graphics you can probably make your own. Or you could even paint your own! The original plan was to have everyone sign the mat and have our immediate families add their finger prints. As our family grows we would add our children's, niece's and nephew's finger prints. Somehow the stamp book was put out for all the guests to use. It turned out ok because the tree is fuller and much prettier with every one's finger prints!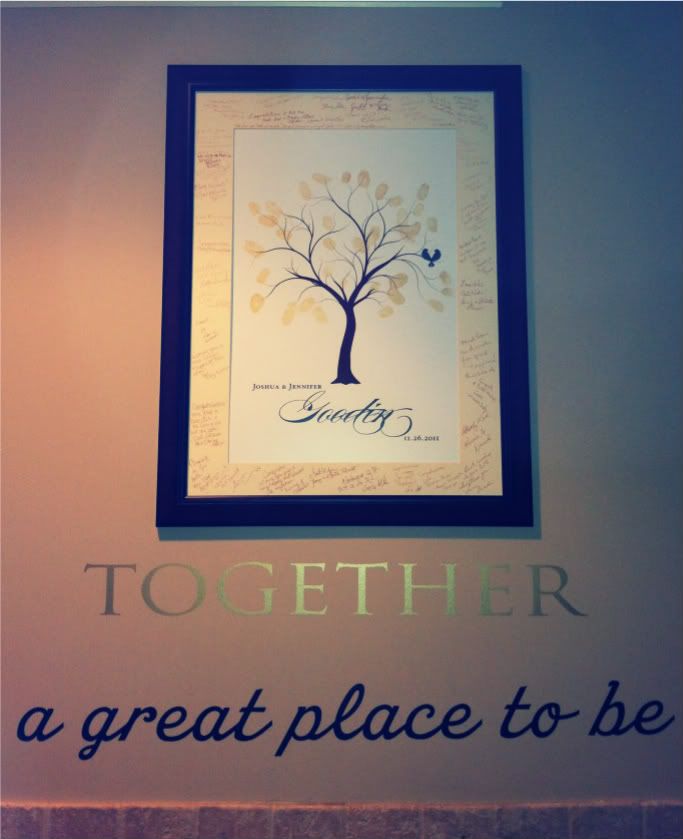 This is now hanging in my kitchen. I smile every time I look at it!
What you will need:
Picture of a Tree- There are plenty of sellers on Etsy- Fingerprint Tree
Frame and Mat- my best friend Lindsey was kind enough to cut our mat for us!
Stamp book in your favorite color
Pens in your favorite color
This is also a great idea for baby showers! Birds and Trees have become so popular in nurseries. This would be a perfect addition!