Being thoughtful doesn't have to cost a lot. Think about the person you want to do something nice for and what they like. When you're checking out at the store, grab their favorite candy bar, or stop by Redbox and rent the movie they've been wanting to see.
I wanted to do something special and unique for my husband on our first married Valentines Day! I called and ordered Chinese to be delivered to his work today. It's practically a FREE gift. He's gotta eat anyways! If he doesn't he becomes very HANGRY! This has become our new favorite word!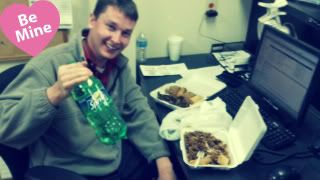 I've never liked Chinese food and he loves it. He rarely gets it so this was an extra special treat for him!