Yay for Friday! As always, I'm linking up with Lauren from My Grey Desk. I am so looking forward to the weekend (who isn't?)! This weekend we have absolutely no plans and I'm gonna take advantage of it. I was in LA (Lower Alabama) last weekend so the house hasn't gotten a good clean in 2 weeks! EEK! I'm probably one of the few that looks forward to cleaning. I just LOVE the end result! If the rain holds off maybe we can get to some yard work too!
Here's what I loved about this week...
1. Josh was hard at work last weekend while I was out of town. He checked off quite a few things on the "honey-do" list. He fixed our fence door that was blown off during our tornado scare a few weeks ago. And my FAVORITE, he added our address numbers to the house.
2. After my 6 hour drive home on Monday we met some of our besties for dinner. They were in Virginia last week visiting family and we were all going through withdrawals! This is Melanie and Andrew with Andrew's adorable niece Scarlett. Her onesie says "My Daddy is an Arrogant Bastard". haha love it!
3. I got my "O" tattoo touched up. My Momma, Sister, and I got this done a few months ago in honor of our last name, Osmanson (which I'm pretty sure is gonna die soon. My Dad has all sisters and all daughters. I don't know of any other Osmanson's!). I was a big girl and wen't all by myself this time! haha.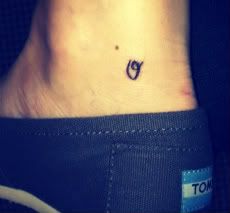 4. I found a lot of new recipes to try on Pinterest. I really stocked up at the grocery store this week. I made up my own version of Ceviche! I can't wait to make it again!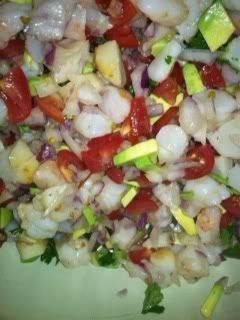 That's pretty much all that happened in our world this week. I hope everyone had a great week and will have an even better weekend!