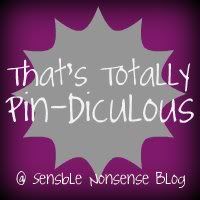 I love looking on Pinterest daily (ok sometimes hourly) and finding stuff I like, and then some stuff I don't like! You know, those pins that make your eye brows raise and make you feel better about yourself! Link up with my friend Lindsey at Sensible Nonsense Blog and share your favorite Pin-Diculous Pins!
Poor Puppy!
Mantyhose- I would have to knock my husband out cold to get him in a pair of these!
I don't even think I need to comment...
Can I get this at Macys?