I'm gonna do a double link up this Thursday! I've been linking up every Thursday with Julia at
Black Tag Diaries
for Thankful Thursdays! I'm also going to link up for the first time with
Life of Love's
Thursday Thoughts!
I am SO thankful for my Job! I'm an event planner for a large neighborhood. Our next big event is our
Easter Egg Hunt
next weekend. I decided to add an Alice in Wonderland theme to the event. I've been thinking about all of the things we can do to incorporate this theme. Pinterest has been a big help! We will of course have the Easter Bunny at the event, but I'd like to give him the "White Rabbit" look. Maybe I'll get a giant clock and bow tie.
I also have my amazing and talented friend Lindsey (
Sensible Nonsense Blog
) working on some props. I found this bean bag toss game on Pinterest (pictured on the left). She decided to do a corn hole version instead. I can't wait to see how it will turn out!
She's already made me 100 of these "Eat Me" tags for our Tea Party Sandwiches.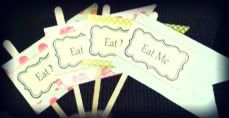 We will also have Alice and the Mad Hatter at the event, as well as a Tea Party with finger sandwiches, Cookies, and Tea and Lemonade.
I'll let you all know how the event turns out! I can't wait to see how it all comes together!