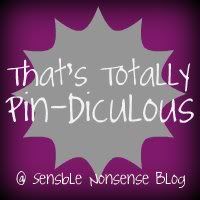 I am so excited for Sensible Nonsense's
That's Totally Pin-Diculous Thursdays!
I love it!
Here are some ridiculous pins I've found!
Actually this one is just sad.
Someone must really love themselves, and their hideous dress!
You may regret that one day...
I wonder if this made it on their parent's fridge!
I could never put this on my foot. I just know it would escape!