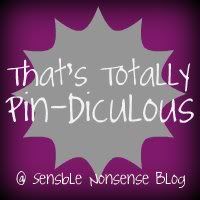 I'm linking up with Lindsey at Sensible Nonsense. I love finding pins that are absolutely ridiculous!
I love the caption that was with this when I re-pinned: "

Sometimes you see a picture that makes you hate the entire human race" LOL!
Party in the front, business in the back...
Absolutely disgusting! And good luck sticking the noodles in without them snapping in half!